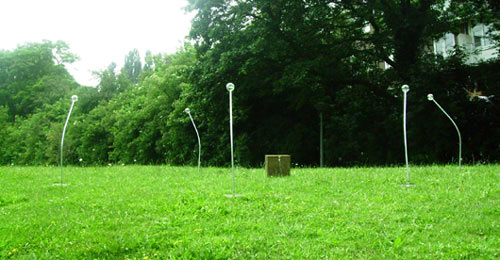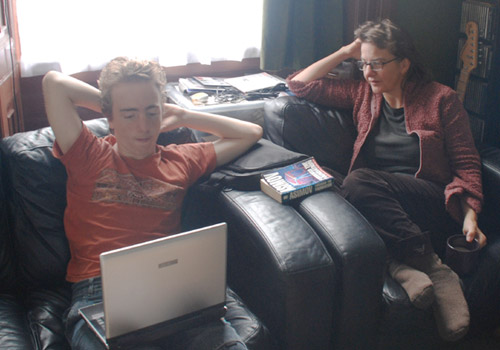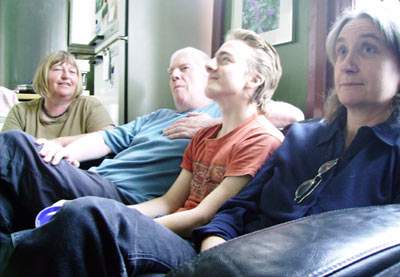 I'm just back from an invigorating 3 days in London.
I went to pick up our latest sculpture from a group show on the northern edge of London, which was in the grounds of the Museum of Domestic Design + Architecture.
<< Cross Pollination 2007
by Sen McGlinn + Sonja van Kerkhoff
See: www.sonjavank.com/crossp.htm for more images and text about the ideas behind this work.
However as usual, I used it as an opportunity to catch up with friends and to see art exhibitions.
<< Tamatea + Sonja
28 September 2007
Photo: Shaun
Even though I've been over to London 2 or 3 times a year for the past decade, it still excites my antipodean roots to walk the streets of London.
This time I started with a few
galleries
in the Picadilly area and walked up along Edgeware Road but the Lisson was still putting up it's show, so I took a few photos of the foam wood-foundations of installations-to-be in in the space.
I then zipped eastward to Bethnal Green for another 6 or 7 exhibitions, soaking up the luxury of so much visual diversity before arriving tired + happy at Kath + Shaun's for a night of catching up.
Eve, Tama, Shaun, Kath, 30 September 2007
I know Kath and Eve from our Tahora Days.
On returning on Saturday, I was almost high from all the socializing. I'd met some old friends (artists) at one of the galleries, which almost never happens in the Netherlands, but always amazes me that it happens at least once a year in London.
music link of the week:
Kath Tait
of course!
art link of the week:
Daniel Lehan
a London friend